BCF
-
The
Rebuild
-
Update
to
Jan
23rd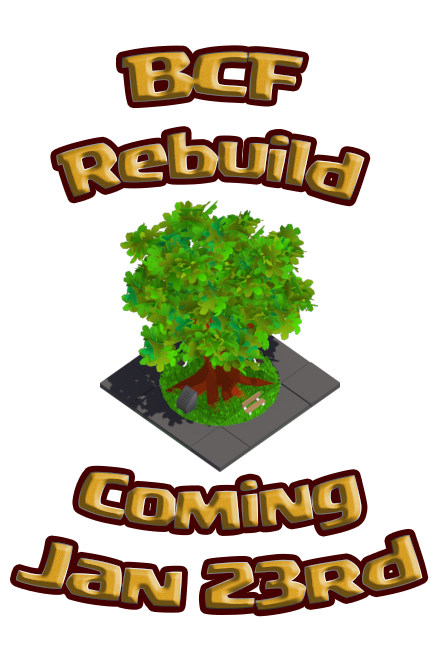 David, Josh and the team have been hard at work the last 6 months getting a whole new version of the game ready and our goal was to be done by Jan 1st when Flash is no longer supported.  Unfortunately we aren't quite ready to release the new version yet.  Due to complications with Facebook Release schedule, COVID, and some timing issues we have fallen a little behind schedule getting the game ready.  We are polishing up the game now and we will release on Facebook on Jan 23rd.  This sucks.  We hate that we won't have a game out for an extended period of time on Facebook.  iOS players will continue to be able to play the current version as usual. 
We are taking a couple extra weeks to continue to test and make sure we have a game that we can be happy with, we may get there before Jan 23rd - Right now we have a few things that need to be tuned up before we are comfortable putting this update out there!  And, it's possible we'll have a pre-release version out before the 23rd.  We will be working as fast as we can to get the new version out.  If you want to receive an email update for any updates and posts we make you can like our FB page here and you'll see updates on any possible early release. 
And we've had a few questions come in about the update:
Will the game keep working on iOS?  Yes - the game will be available to all iOS players.  If you have connected your facebook account to your device or to gamecenter then you can continue to play the game from your apple mobile device. 


Will we keep our current team?   Yes - if you'd rather restart your team from the beginning and re-experience BCF in the new version you can contact us at support@longshotgames.com and we will hook you up.


Will my team get challenged while the game is unavailable?  Teams that have not been connected to an iOS device and are not able to be played will be put on Byes until the game is updated so you will not lose trophies or be challenged until the game is back available.
We'll keep everyone updated on the game through Facebook and on our blog here!  We are excited to get this game out and have everyone playing again!